Emerson Quartet
Details

Created: Monday, 16 December 2013 01:56
Hits: 4123
Emerson Quartet
While I was buying the Mozart's Prussian Quartets performed by Emerson Quartet, I realised that they have changed from DG to Sony label in 2011. Emerson Quartet has been releasing recordings under DG since 1987.
I am a loyal support of DG. Under DG label there are numerous outstanding performers, conductors and orchestras. Being also a photographer, I like the cover photography of DG very much. DG's CD covers are always presented with very well taken photos of the performers.
So that is the first thing I noticed on this CD recording of Emerson Quartet under Sony label. The cover photo standard was not on par with that of DGs. But of course it is still the recordings that are matter, and not surprisingly the performance of Emerson Quartet is still as brilliant as ever. Prussian Quartets were the last three quartets written by Mozart.
My first encounter with Emerson Quartet was their recording of Dvorak American Quartet, op. 96. I first bought their CD of Quartets written by Dvorak and Smetana, and later I bought the very value for money CD album including American Quartet, Tchaikovsky String Quartet No. 1 and Borodin String Quartet No. 2. All three Quartet works are wonderfully composed classics!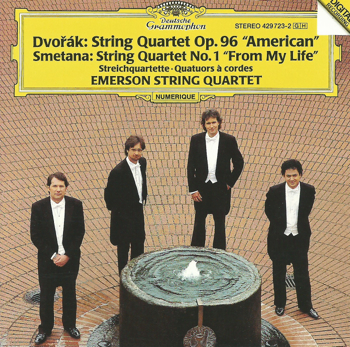 To me Emerson Quartet has a very resilience style. Very high individual technical skill provides a lot possibilities in their performance and interpretation. Their tempo are fairly fast and the playing full of warmth. The exchange of music passages is so seamless even at very fast tempo. While they have been recording classic repertoires, they also put in lots of effort promoting contemporary classical music. Under DG they have numerous recordings including many complete quartets by composers. And to me I am delighted because I like to collect the complete range of compositions from the various composers.
Moving into the next century, other than now recording under Sony label, the cellist of the Quartet David Finckel, unfortunately to me, is leaving the Quartet around 2012 - 2013. He will be on his own music journey after collaborating with the rest of the members of the Emerson Quartet for 33 years. David is a energetic individual. Besides being a member of Emerson Quartet, he is also a cello soloist, he founded his recording company ArtistLed, he also founded a music research institute, founded Music @ Menlo music festival, and at the same time very active in music education. To take over the baton from David is 42-year old cellist and conductor Paul Watkins.
Paul and other members of the Emerson String Quartet has an age difference of almost 20 years. I have been following Emerson Quartet for so many years. I am anticipating this wonderful Quartet, with a new member, will create more sparks in the coming years!