SL66 System
Details

Created: Saturday, 10 October 2009 04:15
Hits: 8401
Rolleiflex SL66: The versatile and innovative medium format


I started Rolleiflex medium format system with a Schneider twin-lens for taking my wedding photos myself. Being a person who like to play with lenses of different focal length, I finally sold the twin-lens and got into the Rolleiflex SL66 system. The fully electronic 6008 series was in my mind but it was too expensive to invest in that system and I ended up with the fully mechanical SL66 system, and later added on a SL66E with TTL metering.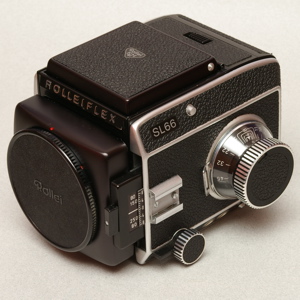 The SL66, fully mechanical, launched in 1966. Hand grip for the SL66, very useful accessory for hand held photography.

Rollei as a company has always been very innovative in ideas. Just look at the SL2000F 35mm SLR and also the SL66. Unfortunately Rollei is not able to capitalised on their innovativeness and it is a very sad year for Rollei supporters like me that the company finally has to leave the photographic market totally in 2009.
The beautiful SL66E, with prism finder, and a 80/2.8 HFT Planar mounted with lens hood.
SL66E, back view.


SL66 is an very interesting medium format SLR, typical with a interchangeable magazine design, focusing is by bellow on the body and so the lenses have no focusing heli-coil. The bellow extension allows the camera to go into macro mode, and the build-in tilt mechanism allow some degree of tilt photography as in large format cameras. Most of the lenses are also able to directly reverse mount to the body without additional adaptors and so very fast for macro mode photography.
Above photos show a Rolleiflex SL66E with bellow extended and a standard 80mm lens in reverse mount.
The photo on the right shows the maximum downward tilt of the SL66E.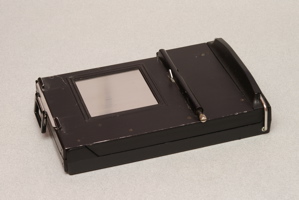 SL66 Polaroid pack, usable on SL66E. Bottom view of a SL66E.
It is unfortunate that my SL66 system is built too late, in the time when I have to spend time with my kids and the digital media is developing very quickly. I really do hope that very soon I can get myself more time to hands on with this lovely system.
For more information about SL66, do visit http://www.sl66.com