Beethoven Ninth
Details

Created: Monday, 14 April 2014 05:26
Hits: 3989
The Great Ninth Symphony
Symphony No. 9 in D Minor Op. 125 (Choral) is the last symphony composed by the great composer Beethoven. This great work composed in 1824 is also first in classical music history a well known composer introduce chorus as part of a symphony. The symphony has 4 movements, and human voice is first heard after a series of urgent timpany rolls in the last movement. The lyrics is from Friedrich Schiller 'Ode to Joy'.
The first performance of the 9th Symphony was already well received by the audience. The Choral Symphony is no doubt a great symphony, too much greatness in fact. A friend who is formally trained in music once told me, while composing this symphony, Beethoven had reach a stage where he had no choice but to introduce human voices into the work, to bring the climax of the work to a grandness never before with symphonies!
I love the version performed by Karajan in the sixties (DG, SACD version) with Berlin Philharmoniker and Wiener Singverein. SACD recording is a wonderful match to large orchestra music recording. I also have Karajan Beethoven 9th DVD. My eldest son even dance happily with Karajan!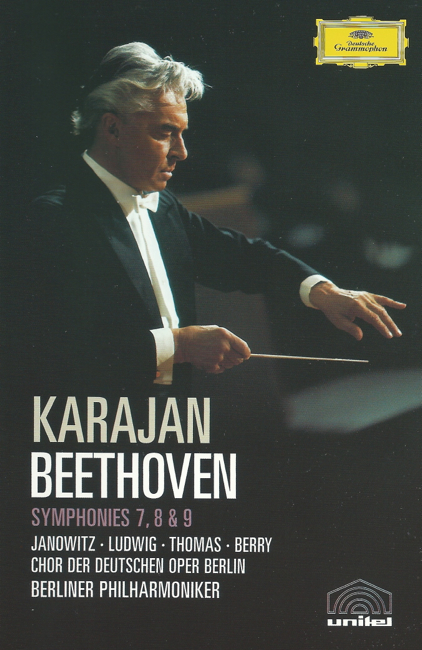 Thanks to Deutsche Grammophon, they produced an iPad apps for Beethoven 9th Symphony. For a small reasonable price I got an apps with 4 performace versions of the symphony. Ferenc Fricsay conducting Berliner Philharmoniker, the first stereo recording of the symphony in 1958; Karajan conducting Berliner Philharmoniker in 1962, great performance by Karajan as always; Leonard Bernstein conducting Wiener Philharmoniker a video recording done in 1979 and the iPad apps provided the complete video footage of the live recording, a great way to appreciate the great Bernstein; John Eliot Gardiner conducting Orsheatre Revolutionnaire et Romantique 1992, performed by period instruments, reproducing the orchestral sound of Beethoven's day.
This apps provided very rich contents. Other than the 4 representative interpretations of the symphony, you also get details of the symphony, and many comendations by various conductors, composers, performers, reporters etc on the great work. While listening to the music, you can also take a look at the music score, orchestra arrangment and graphical animation of musical instruments, which allow a person like me who is not formally musically trained to appreciate the great work even more!