Animals
Details

Created: Wednesday, 18 May 2022 13:20
Hits: 447
Wildlife in Singapore, Animals
A7R4 in APS-C mode
A1, 12 Jun 2022
FE 200-600/5.6-6.3 G
GM 600/4. 10 Sept 2022
MT190CXPRO3/BHQ2
190XPROB/GHFG1. Feb 2022
MT190CXPRO3/GHFG1 May 2022
Berlebach Report 8013/GHFG1 May 2022
Plantain Squirrel
f5.6 1/2500. ISO 3200, GM600 TC1.4x, Jurong Lake Gardens, 10 Nov 2023
A7R2, f6.3 1/500. @600mm, Full Frame, ISO 6400, Sungei Buloh Wetland Reserve, 9 Aug 2019
f5.6 1/1000. ISO 5000, GM600 TC1.4x, Diary Farm Nature Park, near Wallace Education Centre, 22 Mar 2023
f5.6 1/2500. ISO 3200, GM600 TC1.4x, Jurong Lake Gardens, 10 Nov 2023
Malayan Colugo / Flying Lemur
Female and juvenile, A7R2, f5.6 1/320. 300/4 Tele-Tessar T*, ISO 1000, Zoo, 25 May 2022
Draco Lizard, Flying Dragon
f5.6 1/1000. ISO 1000, GM600 TC1.4x, Woodlands Waterfront, 18 Jul 2023
f5.6 1/1250. ISO 2000, GM600 TC1.4x, Woodlands Waterfront, 16 Jul 2023
f8 1/2000. ISO 800, GM600 TC1.4x, Woodlands Waterfront, 8 Nov 2023
f6.3 1/500. ISO 800, GM600 TC1.4x, Woodlands Waterfront, 8 Nov 2023
f6.3 1/500. ISO 800, GM600 TC1.4x, Woodlands Waterfront, 8 Nov 2023
Changeable Lizard
f5.6 1/1250. ISO 2000, GM600 TC1.4x, Woodlands, 22 Aug 2023
Wild Boar
The wild boar is a native animal of Singapore which can weigh up to 100kg and has a life span of over 20 years. They are omnivorous, but feed mainly on seeds, tubers and young plants. Each female can start reproducing at 18 months of age and can produce 4 to 6 piglets a year.
f8 1/500. @600mm, ISO 3200, Lower Pierce Reservoir, 15 July 2021
Lesser Dog-faced Fruit Bat
Amoung the most commonly seen bats in Singapore. Forearm length about 6.5cm. It has white wing bones and white ear edges. A small bat with a long muzzle without an elaborate nose leaf. It has prominent tubular nostrils. Together with its large eyes it has a dog like face. Generally brown, the male has a reddish collar and the female a yellowish collar.
f8 1/60 @344mm, ISO 2500, Sungei Buloh Wetland Reserve, 6 Sep 2022
Long-tailed Macaque
The only commonly seen species of monkey in Singapore. Most dwell in and on the fringes of our rainforest nature reserves at Bukit Timah and Central Catchment. They also occupy parks like Bukit Batok Nature Park, Yishun Park, Admiralty Park, Sister Island and Pulau Ubin. The Long-tailed Macaque in Singapore is a unique population. It has a smaller size, different facial features and larger tail-body ratio than other found in neighbouring region.
f5.6 1/500. ISO 2000, Woodlands Waterfront, 19 Dec 2022
Jumping Fish, Eagle Point
f7.1 1/3200. ISO 1600, GM600 TC1.4x, Eagle Point, 28 Jul 2023
f8 1/3200. ISO 1000, GM600 TC1.4x, Eagle Point, 15 Sept 2023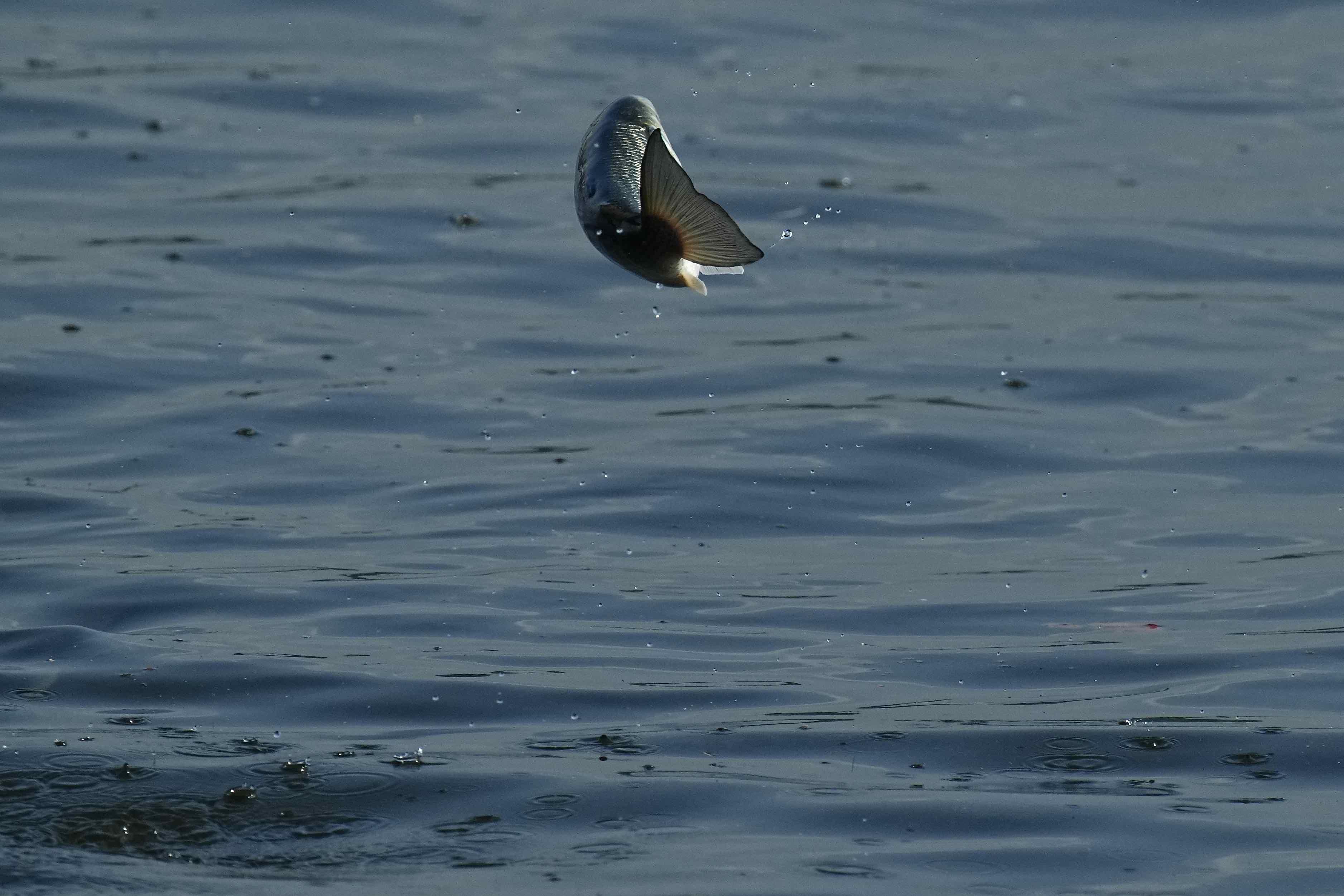 f8 1/3200. ISO 1000, GM600 TC1.4x, Eagle Point, 15 Sept 2023
f8 1/3200. ISO 1000, GM600 TC1.4x, Eagle Point, 15 Sept 2023