PB Winders
Details

Created: Saturday, 10 October 2009 03:37
Hits: 3518
Praktica PB Winders
I have three types of winder for Praktica PB bodies. Two of the earlier versions were made in Japan, and the last version was made in Germany. The last version before the closing of Praktica was labelled with Schneider logo.

I have a version with leatherette same as the older B200, so I suppose this is the earliest winder Praktica made.

The next version I have is a winder with a very clean design and when I used it with my BC1s the performance was satisfactory, although a bit noisy.

The last version of the winder apparently was made in Germany. The design looked more modern, but the motor sounded noisier than the 2nd version, although this model supposed to wind up to 3 frames per second, whereas the other 2 versions up to 2 frames per second. This winder, however, only works well with BX series of bodies. On the BC1 the winding speed in fact becomes slower.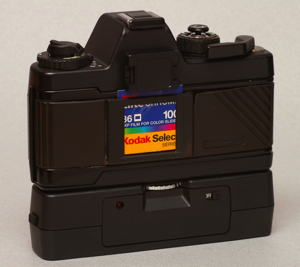 All the winder models were powered by 4 AA alkaline cells. As I have not used them recently I am not sure their performance with the modern rechargeable batteries.