Contax 100/2.8 Makro Planar T*
Details

Created: Wednesday, 11 March 2009 20:55
Hits: 4520
The Long Range Close Up Shooter 100/2.8 Makro Planar T*
2.8/100 100 f2.8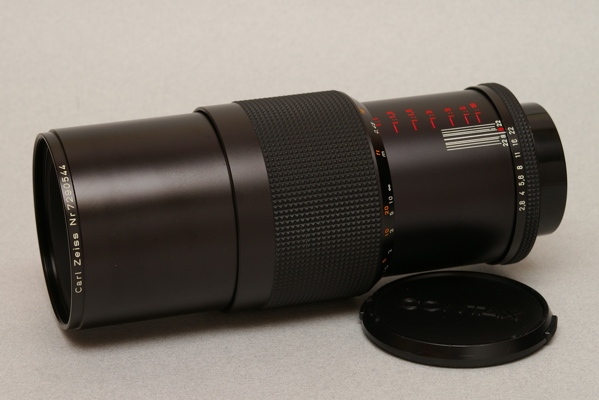 Zeiss 100/2.8 Makro Planar T* fully extended at 1:1
One of the Zeiss Contax I was eyeing as this macro focal length was not provided in the Rolleiflex programme with a Zeiss alternative. It is a huge and heavy lens can when used at 1:1 the lens is very long, and it is with this lens that I realised that at that lens extension the f-stop actually drops about 1 stop so it becomes a 100/4 at 1:1 reproduction ratio.
Makro Planar with Heliopan straight metal hood
I find this lens equally good for portrait shoot and macro photography. While at 100mm it does provide more space between the lens and the subject, it also introduces some stability issue and a sturdy tripod is important. The picture taken by this lens is typical breath taking of a macro lens, where you begin to feel medium format type of resolution and smoothness in the picture.
Aria, UC400, f4 1/125, Manfrotto 190B/488RC2
RTS III VC160
Aria, f8/11 1/2, Manfrotto 190B/488RC2
Buddha Tooth Relic Temple and Museum, Singapore
Aria, Portra 400, f5.6 1/4, Manfrotto 190B / 410 Gear, 7 June 2013
Aria - f8 1/30 - Portra 400 - Manfrotto 190B/410 Gear - 18 Oct 2013