The Legend of Mutter
Details

Created: Sunday, 11 December 2022 13:14
Hits: 279
Anne Sophie Mutter
Mutter is a violin virtuoso that all along has been on my following list. My first encounter with her performance was her Beethoven violin concerto Op. 61 recording with the great Herbert von Karajan and Berlin philharmonic. The Op61 violin concerto was the only one composed by Beethoven, a master piece where technically probably not a problem for any gifted young violinist, but to fully display the depth of this concerto you will need not just technical perfection! Mutter first recorded this concerto with Karajan in 1980, when she was only around 20. While her that recording was not really perfect in that sense, but she did a very good job nevertheless. But now looking back I began to admire Karajan's foresight that how could he realised that mutter was such a talent at that time! Today, I would say mutter performance is a great combination of technical perfection and musicality! I have not missed any of her recordings lately. Why mutter first Beethoven recording because I was recommended by a friend for her very calming and sweet second movement. Today that performance of the second movement is till the same feeling to me. That mutter playing had a undoubtedly youthful and plain style, typical innocence of a young and budding artist, a style that will inevitably lost as the artist grows mature and older. That's life and when you gain some, you lose some.
I do quite admire mutter in other ways. She married 1989 and later had two kids. Unfortunately her husband passed away in 1995 due to cancer. With two young kids and husband sadly passed away, she could still managed her life and career and she was able to march her career to a great height, not easy in any way. She remarried to great conductor and composer Andre Previn in 2002, and both collaborated as husband and wife for few recordings subsequently. But unfortunately they divorced in 2006. But they were still collaborating after the separation until Previn unfortunately passed away in 2019.
I did not really follow mutter after the Beethoven violin concerto, until her 1999 Vivaldi Four Seasons recording. The Four Seasons there are too many recordings, even the very good ones. This recording of Mutter she was collaborating with Trondheim Soloists, a small ensemble. Mutter was the conductor and soloist for this performance. What attracted me so much, as a photographer, was the packaging of this CD recording. DG albums have always presented very high standard in photography, and the Mutter was brilliantly photographed for this album. The CD packaging was so colourful, as the theme seemed related to an artist Graubner, and the CD booklet included an exchange between both of them on music and painting. After this recording, DG label seems packaging Mutter beautifully in all her subsequent recording releases, like an attractive mermaid (because of the gown she worn)!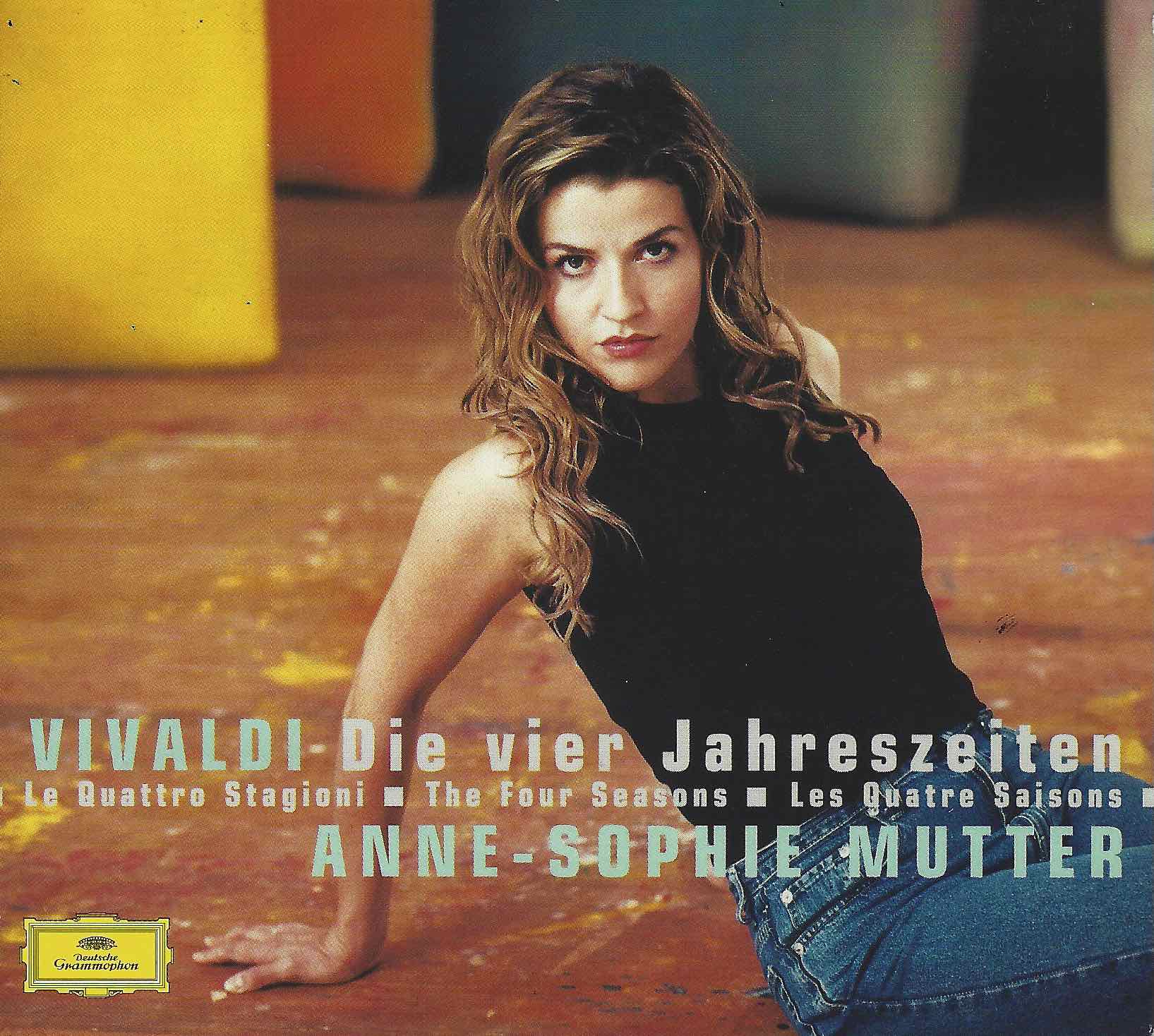 The year 1999 Philips and Sony jointly developed the SACD high definition music disc format. Most of them were manufactured in dual format to be playable on both CD and SACD players. Sadly, probably due to the high price and could be the recording process, SACD fever was subsided from 2007 onwards. The Singaporean boss of Hong Kong based Hugo label also produced SACD recordings before, but later he went back to 44.1kHz red book CD recordings again, but he invented his own standard of audiophile recording processes for enhanced music playback. It is a small circle now for SACD supporters, with few labels still producing SACD recordings. German classical music label Deutsche Grammophon in the prime days of SACD also produced 4 SACDs for Mutter: Beethoven Violin Concerto, Tchaikovsky Violin Concerto, Carmen Fantasie and Beethoven Violin Sonatas 5 and 9. DG also produced SACDs for some of the artists under its label but has stopped doing so for a long time. DG SACDs are also out of stock in the market. I noticed some Mutter SACD recordings were asking for high price on eBay!!!
Mutter has done many sonatas and musical pieces accompanied by piano. She has also collaborated with Previn with music in jazz style and others. It shows that Mutter playing is not only restricted to classical genre. For the performance with piano she works with her 20 over years long time partner Lambert Orkis, and they are still collaborating now. Their perfect collaboration is of course expected and no surprises. Listen to their Beethoven Violin Sonata collection you will understand their long term relationship in collaboration resulting in wonderful music for violin and piano.
Other than her traditional repertoire, Mutter also put in lots of effort in promoting contemporary music. Mutter's very own personal style and her very special tonal presentation of high registers in my opinion made her very suitable for presenting contemporary classical music. Many recent composers specially composed music for Mutter for premier performance.
DG is having the idea of bringing classical music into non-traditional performance locations and to have a reinterpretation of classical music. Mutter has a recording that was done in the Yellow Lounge. At first I thought Yellow Lounge was a fixed performance location, but I later realised that Yellow Lounge is a concept DG experimenting to bring classical music closer to the world of the younger generation: bars and nightclubs.
To me another very meaningful recording of Mutter will be the Blu-ray recording of Karajan 100th Anniversary Memorial Concert in 2008 at Vienna. That evening repertoire were Beethoven Violin Concerto and Tchaikovsky Symphony No. 6, both Karajan favourite repertoire during his conductor carrier. Mutter performed the violin concerto. Conductor was one of Karajan best student Seiji Ozawa, and of the course then orchestra the Berliner Philharmoniker. Maestro Karajan has passed away many years. This concert brought together soloist, conductor, orchestra and repertoire that are closely related to him when he was alive, is definitely paying a great respect to the forever maestro Karajan!!
Mutter current recordings have been even wider in genre: she recorded again the four major violin concertos; premier new concerto; performed and recorded modern violin pieces; recording of classical sonata, Mozart piano trio, Previn recent works, Shubert Trout Quintet, and the latest she even works with John Williams on movie music and music from Star War!! All her performances and collaborations with the various artists had created so much sparks in the music, typical of Mutter. Because of Mutter I believe, maestro John Williams collaborated with Wiener Philharmoniker, and later even Berlin Philharmoniker! The two live concerts the response from the audience was so warm and they literally standing ovation for every pieces!!
By the time I finished this article, Mutter recording collaboration with Cellist Pablo Ferrandez is hot from the oven. Let us expecting yet another performance with sparks!!