The Legend Reborn - 40/2.8 HFT Sonnar
Details

Created: Thursday, 19 April 2007 14:17
Hits: 6239
Reborn of a Legend: Zeiss HFT 40mm Sonnar
The 40mm Sonnar on a Rollei 35RF. On the right is the very popular Rollei 35 S.

I bought a Rolei 35RF range finder camera that came with a 40mm f2.8 Sonnar lens in Rollei's very beautiful HFT multi-coating. This lens is kind of sentimental to me, as I had used the once very popular all mechanical Rollei 35S. The 40mm Sonnar now in M-mount is very likely the same as the 40mm Sonnar used on the numerous Rollei 35S, maybe with some design improvements. From various information the optical layout is identical.
Lens optical layout from a Rollei Classic brochure.
Lens optical layout and performance curves from a Rollei 35RF brochure.
Very small and compact, but by no mean light weight for its size. Filter size is 39mm. For me I use the lens with a 39mm UV filter, then fitted on the original silver hood, and then fitted on a 39-46mm Heliopan step up ring made of solid thick metal as a hood extension. Overall the package is still quite compact in size. The lens construction and design is very different from the rest of my ZM lenses. Aperture settings are in half stops. There is a focusing tab. The lens is originally in Leica M39 thread mount, supplied with a M-bayonet adaptor when purchased. Mounting of the lens on the body is not as easy as the ZM lenses which has a blue protruding dot for easy locating of the lens mounting position. The lens is made in Germany. The focusing ring and aperture ring have more damping than the made by Cosina ZM lenses.
Character of the lens seems different from the old Sonnar on the Rollei 35S. But I might be wrong as I have not been using both the new and old design side by side, and I do not have the intention to do so. One thing I dislike about the 35S is that it is difficult to take sharp pictures at close distance at big aperture. I am not good at judging distance less than 2m.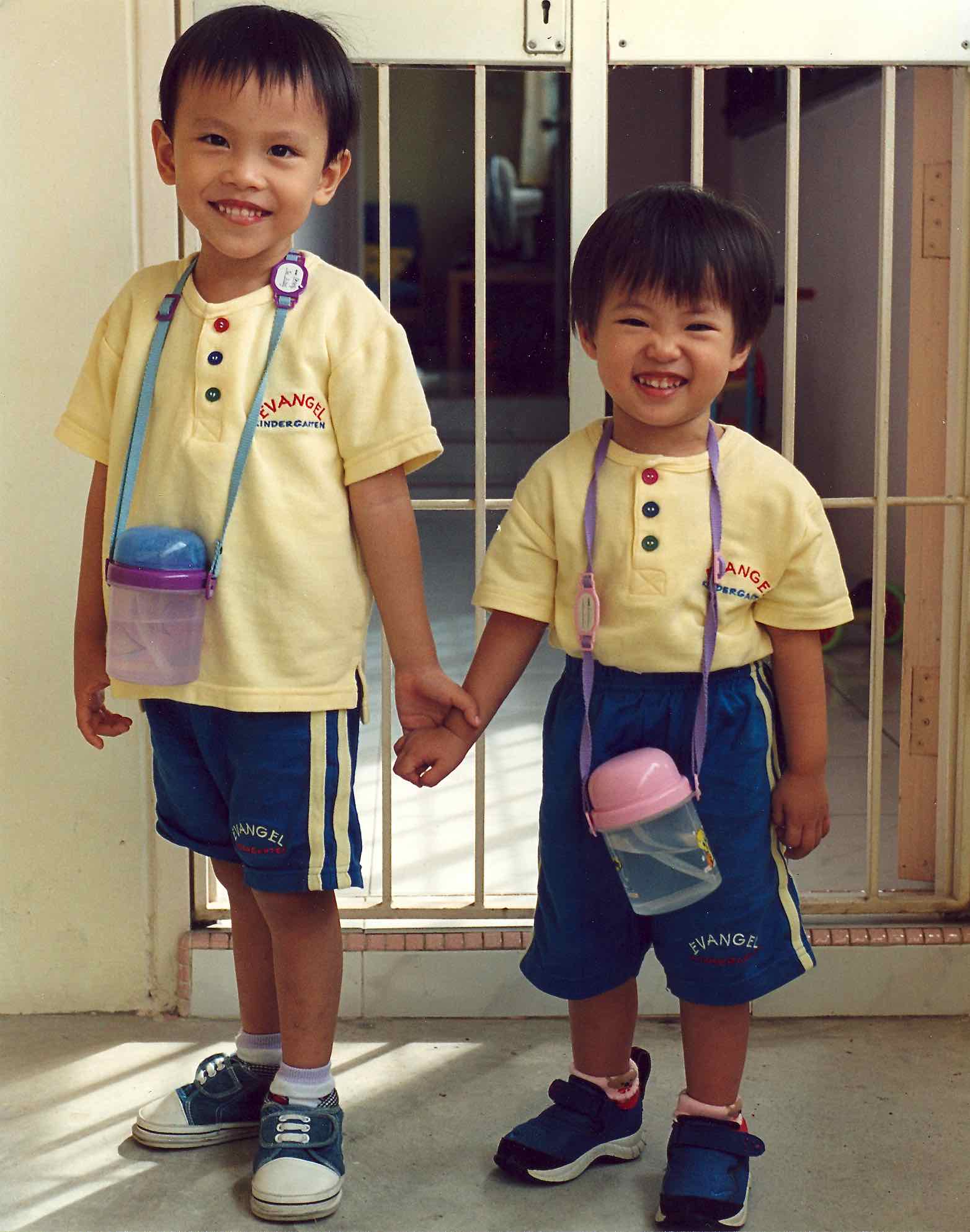 To school, Rollei 35RF, 40/2.8 HFT Sonnar, Kodak VC160
The 40mm Sonnar does exhibit some loss of sharpness at large aperture at the corners and there is apparent pespective distortion at the edge of the photo especially with human faces. I guess this is the compromise for designing the lens to be compact. Sonnar concept allows a compact design but suffers addition distortion.
Fushan Park Singapore, Rollei 35RF, 40/2.8 HFT Sonnar, f4 1/250, Kodak VC160.
Alpha 7R - f5.6 1/250-1/500 - ISO 100 - 7 Dec 2013
Size comparison: ZM 35/2, ZM 28/2.8, HFT 40/2.8.
Overall, a cute little lens, and I like it very much.