Second Generation PB Bodies
Details

Created: Wednesday, 19 December 2007 11:48
Hits: 2736
Second Generation
The second generation of the PB bodies was the BC series. Again there were 2 series of bodies. One was the simpler version without manual shutter speed selection corresponding to B100, and the other the more sophisticated version with manual selectable shutter speeds and aperture priority auto-exposure corresponding to B200. The hot shoe had an additional pin allowing flash ready indication in the view finder.
Left front: BCS; Left rear: BCA; right: BCC
The simpler models were the BCA, BCC and BCS. For BCA/BCS/BCC, shutter speeds indicated for range 1/1000-1/60 (high speed range), range 1/30-1 (slow speed range) and out of range. BCS and BCC were low cost models with plastic top and bottom plates. There were no provision for exposure override and winder connection. There was a mechanical speed of 1/60.
These models were all using plastic rewind cranks. All of them had an additional pin on the hot shoe for flash ready indication in viewfinder, but the x sync socket was removed. The BCC had no self timer.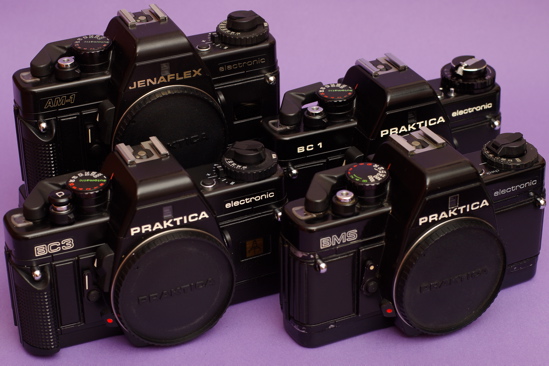 Clockwise from left bottom corner: BC3, AM-1, BC1 and BMS.
The more sophisticated models were BC1 and BCX. BCX was an interesting variant, seemed to be a transition model from the first generation B200 to the second generation BC1. I had a black BCX model with flash ready LED, and a chrome BCX model without flash ready LED. The BC series of bodies the mechanical shutter speed was 1/90.
There were also variants of the BC1, for example the BC3 for the Netherlands market and the AM-1. These variants however were identical to the BC1.
The early models of BC1 used a metalic rewinding crank like those on B100/B200. The later production ones used plastic rewinding crank.
Among this generation of PB bodies there was this unique BMS model, which operated in full manual mode and had no aperture priority function. For this model there were no provisions for winder attachment, flash x-sync and exposure override, like the BCC and BCS.
Those golden years of Praktica in the 1980s, shown on the left
is the fully mechanical M42 MTL50, with 2 BC1 on the right.