My Contax Journey
Details

Created: Tuesday, 08 January 2008 13:03
Hits: 7231
My Contax SLR System
My reason for moving from the Rolleiflex system into the Contax system is the urge to try out the Zeiss designed zoom lenses. Zoom lenses are available for the Rolleiflex system but they are designed by the Japanese lens makers like Sigma and Mamiya. Most of them do perform well though.
Contax Aria and 28-70/3.5-4.5 Vario-Sonnar T*
A very light weight package.
In the beginning of my Contax journey I did not actually want to build up a Contax system. So I first started with a budget system: the Aria and the 28-70/3.5-4.5 Vario Sonnar. Then I fell in love with the superior view finder. To me Zeiss is still the best, and the 28-70 Vario Sonnar did proof to me that it is superior to the Japanese made Rollinar zooms. The reviews of this budget Vario Sonnar are not as good but I seriously believe that this lens is underrated. The Japanese, however, also call the lens APO Vario Sonnar, and there must be a reason.
My Contax trouble starts also because I am not a zoom user. Using manual focusing with full matt screen all the time, prime lenses are far more compact, high speed and easy to focus compared to the zooms. So I end up collecting the Zeiss series of prime lenses for Contax mount.
In I first encounter with Aria I felt that it was too light for me, though it is a very nice compact light weight body for travel. The mirror/shutter lag seems noticeable, although the camera can take 3 frames per second. Then I looked around and bought a RTS II and a 159MM. I fitted both with their respective winder and was really please with them compared to the Aria with build in winder. The 159MM is still light, but feels better with the winder. The RTS II is heavy, much to my liking. Its shutter is lightning fast, so fast and sensitive that I took quite a while to get use to it.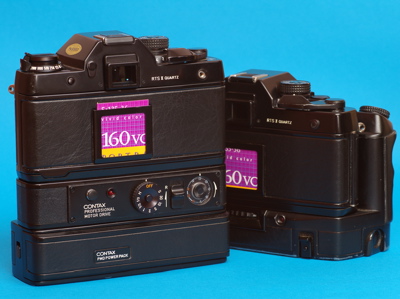 Contax RTSII, with W3 winder and PMD motor drive system.
Then the worst was yet to come. Somebody poisoned me with RTS III. To me RTS III is really one kind of beauty. Rock solid and heavy. Fast in every way, except the shutter lag, which is still fast but much slower than the RTS II. It has very special blue LEDs in the view finder, but they can become dim with older and used bodies. View finder sees 100% of the film area, but as a result view finder magnification is now lower. In this aspect, many find the RTS II view finder more superior for critical focusing, especially for lenses with f1.2 and f1.4. Another two very unique features of the RTS III are the pre-flash exposure measurement and the vacuum suction film plate. The pre-flash exposure check allows flash exposure to be checked prior to taking of the photos, where the flash is a dedicated TTL one or any other kind of flash. The vacuum suction film plate will ensure the film to be perfectly flat to maximise the resolution of the lens.
Contax RTSIII and 16/2.8 F-Distagon T*
Nowadays I tend to use the Aria more often. It has the reputation as the most reliable body Contax ever built. Other models do have mirror slipped issues. For me with an expensive D-9 data back, I am able to capture date, f stops and shutter speed details for every shot I take, which I find very useful when come to documentation. However, the data back is not able to track the lens used.
The RTS family: RTSIII (front), RTS (rear right), RTSII with PMD
(rear left) and RTSII with W3 winder.